Skip to Content
Cupping Therapy
Round cups are placed on particular areas of the body and a suction is created to decompress muscles and connective tissue. This, in effect, relaxes muscles, improves blood circulation, activates the lymphatic system, and calms the nervous system. Occasionally red circles are left behind on the skin that looks like bruises but does NOT feel like bruising. Cupping is painless, relaxing, and a great part of the recovery process post-workout.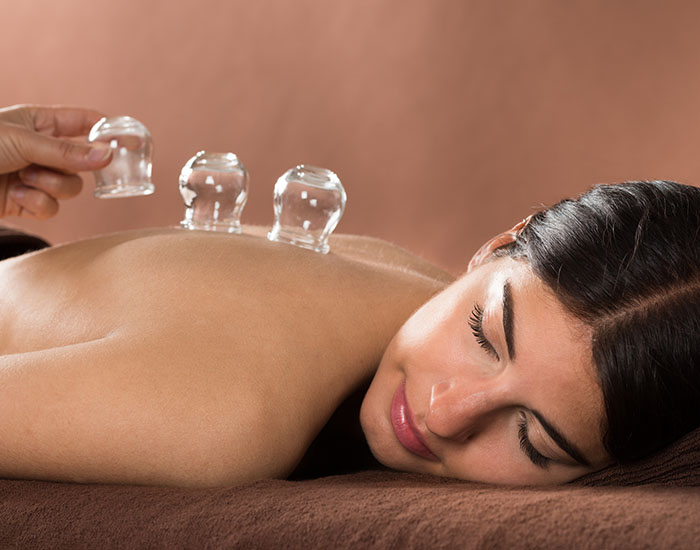 Cupping FAQ
Does cupping therapy hurt?
You will feel a slight pulling on the skin when the cups are used, but this should not be painful. The bruises that accompany the cupping will be painless. Your comfort is our priority and as such we will try to ensure this is as painless a process as possible.
How long should I expect the bruises to remain after the treatment?
Each person will be different in the amount of time the bruising will last. Depending on the patient's medical history and overall health these could last anywhere from 3 days to 1 week. A great way to ensure the bruising does not linger is by ensuring proper hydration.
Research Supporting the Use of Cupping
Moura CC, Chaves ÉCL, Cardoso ACLR, Nogueira DA, Corrêa HP, Chianca TCM. Cupping therapy and chronic back pain: systematic review and meta-analysis. Rev Lat Am Enfermagem. 2018 Nov 14;26:e3094. doi: 10.1590/1518-8345.2888.3094. PMID: 30462793; PMCID: PMC6248735.
Warren AJ, LaCross Z, Volberding JL, O'Brien MS. ACUTE OUTCOMES OF MYOFASCIAL DECOMPRESSION (CUPPING THERAPY) COMPARED TO SELF-MYOFASCIAL RELEASE ON HAMSTRING PATHOLOGY AFTER A SINGLE TREATMENT. Int J Sports Phys Ther. 2020 Aug;15(4):579-592. PMID: 33354391; PMCID: PMC7735689.
Chiu YC, Manousakas I, Kuo SM, Shiao JW, Chen CL. Influence of quantified dry cupping on soft tissue compliance in athletes with myofascial pain syndrome. PLoS One. 2020 Nov 19;15(11):e0242371. doi: 10.1371/journal.pone.0242371. PMID: 33211769; PMCID: PMC7676738.
Mohamed AA, Zhang X, Jan YK. Evidence-based and adverse-effects analyses of cupping therapy in musculoskeletal and sports rehabilitation: A systematic and evidence-based review. J Back Musculoskelet Rehabil. 2022 Jul 8. doi: 10.3233/BMR-210242. Epub ahead of print. PMID: 35848010.
Mederi Health Is Your Westminster, CO Resource for Full Body Wellness