Skip to Content
Myofascial Release
Myofascial release is an effective, conservative soft tissue treatment. It is a soft tissue process that systematically treats problems with muscles, tendons, ligaments, fascia, and nerves. By combining the diagnostic process with precise techniques from the doctor and movements from the patient, we are able to provide rapid relief and restore function to the soft tissue structures.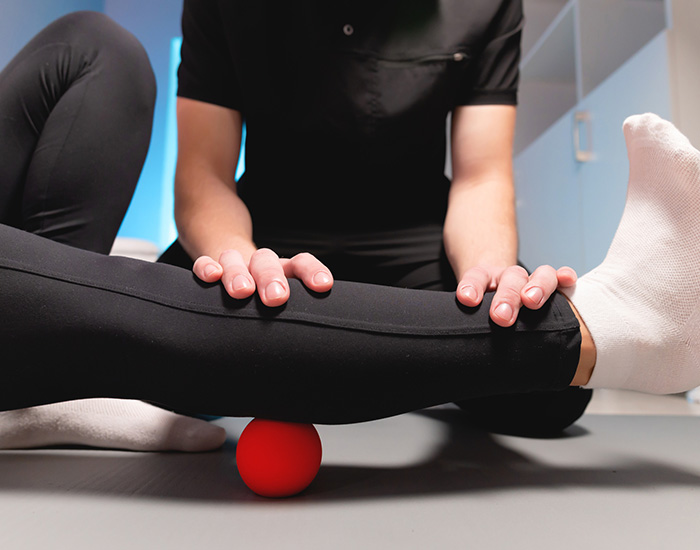 Myofascial Release FAQ
What does a treatment session entail?
Each session will be a combination of examining the soft tissue's texture, tightness, and ability to move followed by precise tension from the doctor and specific motions from the patient.
What is the difference between this treatment and a massage?
While a massage is similar in that the provider uses their hands to help loosen the soft tissue, a massage involves the patient letting the therapist work on them. By combining the technique of the doctor and the motion from the patient we see significantly increased results.
Research Supporting Myofascial Release
Kameda M, Tanimae H. Effectiveness of active soft tissue release and trigger point block for the diagnosis and treatment of low back and leg pain of predominantly gluteus medius origin: a report of 115 cases. J Phys Ther Sci. 2019 Feb;31(2):141-148. doi: 10.1589/jpts.31.141. Epub 2019 Feb 7. PMID: 30858653; PMCID: PMC6382483.
Ajimsha MS, Al-Mudahka NR, Al-Madzhar JA. Effectiveness of myofascial release: systematic review of randomized controlled trials. J Bodyw Mov Ther. 2015 Jan;19(1):102-12. doi: 10.1016/j.jbmt.2014.06.001. Epub 2014 Jun 13. PMID: 25603749.
Kojidi MM, Okhovatian F, Rahimi A, Baghban AA, Azimi H. Comparison Between the Effects of Passive and Active Soft Tissue Therapies on Latent Trigger Points of Upper Trapezius Muscle in Women: Single-Blind, Randomized Clinical Trial. J Chiropr Med. 2016 Dec;15(4):235-242. doi: 10.1016/j.jcm.2016.08.010. Epub 2016 Oct 11. PMID: 27857631; PMCID: PMC5106440.
Mederi Health Is Your Westminster, CO Resource for Full Body Wellness